The Sculpture in the Codrington Library
All Souls College, Oxford.
Part 31.
The Sculpture in the Chapel,
at All Souls College, Oxford.
The Life Size Stone Statue of Henry Chichele (1364 - 1433).
Archbishop of Canterbury.
Co founder of All Souls with King Henry VI.
Attributed by Howard Colvin to John Massyingham.
The 'Great Stone statues' which were over the high alter in the Chapel at All Souls were specifically stated to have been the work of Massyngham. This array of Saints in the niches of the East wall of the chapel were destroyed in the reformation.
The All Souls statues are cut from stone from a quarry either at Burford or Taynton, Oxfordshire.
For further references to the statue of Henry VI, the architecture and sculptural programs at St John College, Oxford see my previous posts.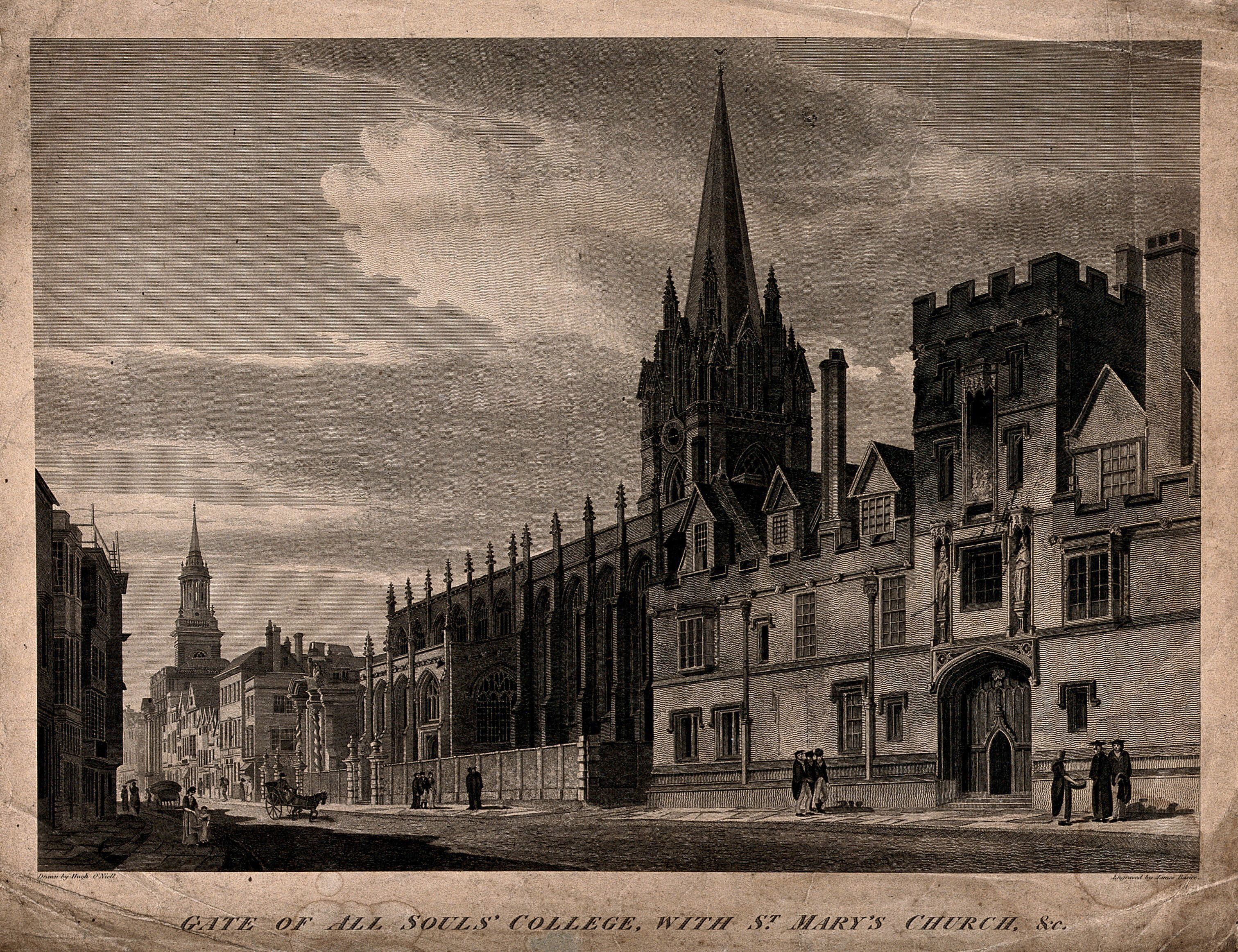 South Front of All Souls
Engraving by James Basire
c. 1800.
Image Courtesy Wellcome Library
__________________________
For some later portraits of Chichele see my post on the Roubiliac bust at the Codrington Library - http://english18thcenturyportraitsculpture.blogspot.co.uk/2017/06/sculpture-at-all-souls-college-oxford.html
Birds eye view of All Souls College, Oxford, looking North
Prior to the construction of the Codrington Library began in 1716.
from Oxonia Illustrata.
David Loggan.
engraving.
1675.
Image from Victoria and Albert Museum.
Clearly showing the statues of Archbishop Henry Chichele (on the right) and King Henry VI in the niches above the main gate.
________________________________

Archbishop Henry Chichele.
Sir James Thornhill (1675 - 1734).
Oil on Canvas
238 x 157 cms.
All Souls College, Oxford.
This portrait shows the gateway of St John College with the statues of Chichele and Henry VI in the niches above.
_________________________________
All photographs above taken by the author under difficult circumstances.
____________________________
Archbishop Henry Chichele.
oil on canvas.
127 x 107 cms.
New College Oxford
Image from Art UK.
___________________________
Archbishop Henry Chichele
Portrait by anonymous artist
Lambeth Palace.
___________________________________
Archbishop Henry Chichele
Life size Marble Bust
Louis Francois Roubiliac
at the Codrington Library,
All Souls College, Oxford.
Photograph taken by the author.
see my next post
__________________________________
Engraving
1703.
National Portrait Gallery
Details of the Monument to Archbishop Chichele put up in Canterbury Cathedral
see - https://aclerkofoxford.blogspot.co.uk/2012/09/a-colourful-canterbury-tomb.html
________________________________________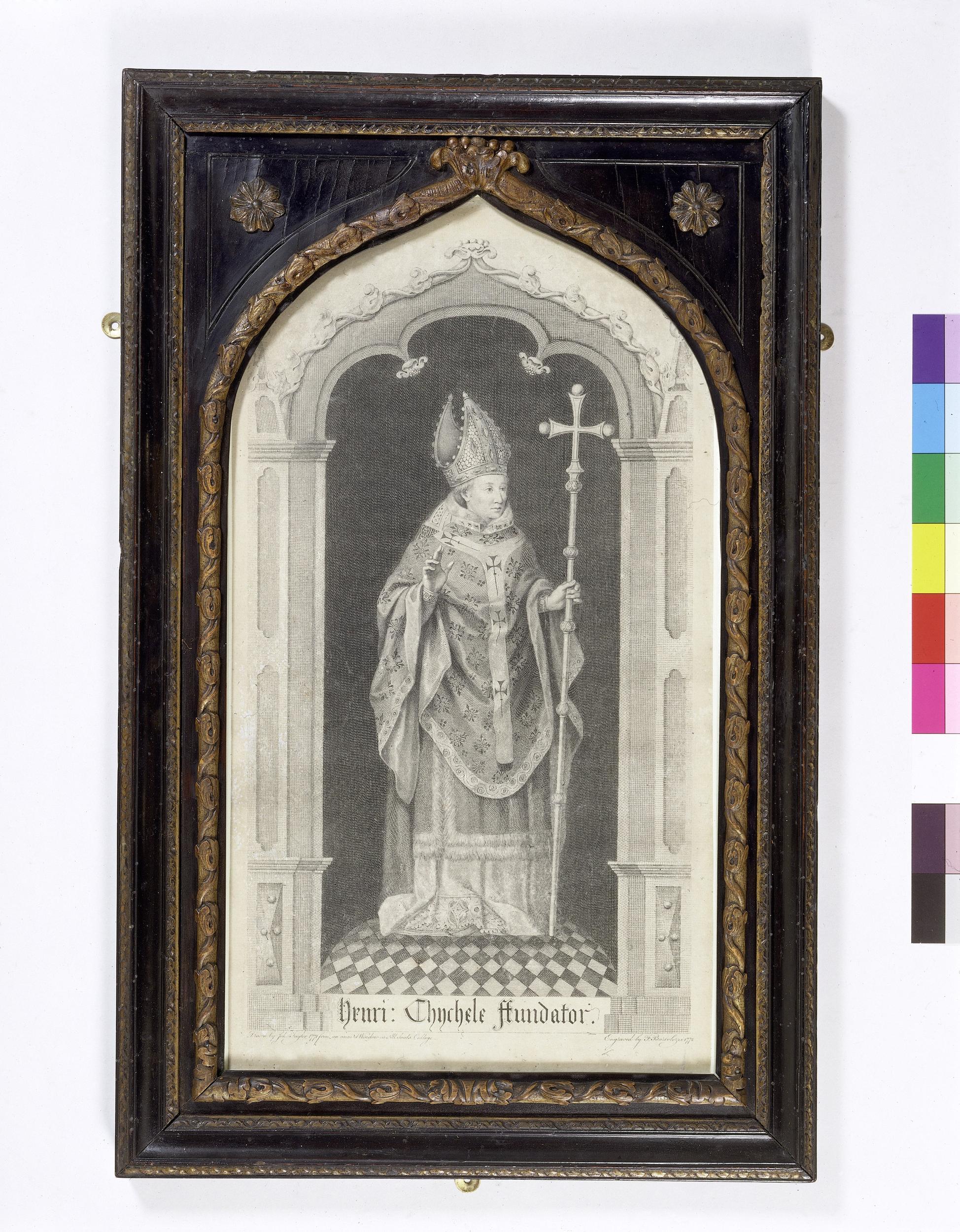 Henry Chichele
Archbishop of CanterburyArchbishop
This engraving is based on a stained glass window at All Souls,
Drawn by John Taylor in 1771.
Engraving
Francesco Bartalozzi, 1772.
487 x 276 mm
Victoria and Albert Museum.
This print was made in 1772 and its frame was added slightly later. The print combines two techniques - etching and engraving. Both involved creating a pattern of grooves to hold ink in a metal printing plate. The etched lines were made using acid, while the engraved lines were scored by means of a sharp tool called a burin. The grooves were then filled with ink and the image was transferred onto a blank sheet of paper.
Subjects Depicted
In 1438 Henry Chichele, Archbishop of Canterbury co-founded All Souls College at Oxford. Francesco Bartolozzi based this depiction of Chichele on an 18th-century drawing, which in turn recorded a stained glass window at the College.
Ownership & Use
This print and its pair (museum no. W.98:1-2-1978) are thought to have originally belonged to the writer and collector Horace Walpole (1717-97) and to have hung in his Gothic-revival house at Strawberry Hill, near Twickenham in Middlesex. The style of the frame, with an inner Gothic arch and stylised flowers in the upper corners, would have fitted in well with the house's decoration. Both were sold in 1842, when the house contents were auctioned. After this the prints were for some time at Brookhill Hall in Nottinghamshire, before being spotted by a curator in an antique shop near the V&A, when they were bought by the Museum.
Info above lifted from the V&A website, see -
Henry Chichele
Archbishop of Canter bury
Stained and painted glass panel.
Anti Chapel
All Souls College, Oxford.
Photographs by the author
Unfortunately the photographs are in a rather low resolution - at the time I had no idea of what I was photographing - usually if I have time I will try to take photographs of the stained glass for my records when I visit any church or chapel.
For the surviving stained glass at All Souls, College Chapel, Oxford.
see - Collectanea, iv (O.H.S.), 131–3; F. E. Hutchinson, Medieval Glass at All Souls College (1949).
___________________________
Henry Chichele
Archbishop of Canterbury
Robert Cabell Roffe
Engraving
250 x 181mm
1805
National Portrait Gallery
_______________________________________
Henry Chichele
Archbishop of Canterbury
anonymous
Probably 18th Century
National Portrait Gallery
______________________________________