A Bronze Bust of John Locke.
Perhaps an 18th Century bronze cast from a model by John Cheere and based on an original sculpture perhaps by Louis Francois Roubiliac.



With Gurr Johns, London Art Consultants in 2006 - currently (February 2018) on the London Art Market.


Unfortunately I have so far been unable to obtain any photographs of the profiles or more importantly perhaps, the back of this bust - it would be useful to see how the socle is united with the bust.





The Bronze bust of John Locke, approx 24" tall side by side with the Bodleian Lead bust, approx 24 " tall for comparison.
The examination of the detail of these two busts repays close inspection - both of these busts appear very impressive (from a distance), but when seen close up the quality of the finish is surprisingly indifferent. I wouldn't pretend to be an expert in casting, but I would say that both of these casts came from the same mould, and are probably at least second generation - that is to say that they have been taken from an earlier original.

Below I am posting photographs of several mid 18th Century bronze sculptures which show the quality that could be produced. The detail of the Rysbrack bronze of Oliver Cromwell particularly on his breast plate, shows what could be achieved.

Rysbrack in a letter to Sir Edward Littleton dated 28 February 1758 regarding plaster casts says that the "mould when made will be good to cast 15 or 20 casts out of it" this suggests that the mould and therefore the casts will deteriorate with each pull.
Bodleian Library Lead Bust (approx. 24" tall) side by side with the Wren Library, Trinity Plaster Bust ( size not determined - about life size) the similar plaster bust of Pope at the Wren Library, Trinity , another with Birmingham Museums formerly at Shardloes, Buckinghamshire bought in 1959 along with busts of Shakespeare Milton and Locke is 23" tall without the socle.
The Wren Library plaster bust to my eye, even although it has been over painted several times in its life, is clearly of a finer quality than the lead or the bronze version and therefore a cast from an earlier generation mould where the detail of the embroidery has been enlarged.
English Bronze sculpture of the 18th Century is very rare - I am including here photographs of an 18th Century bronze bust of Alexander Pope sold at Sotheby's with an attribution to Roubiliac and of the busts of Isaac Newton and Oliver Cromwell by Rysbrack (below) which illustrate the quality of finish achievable using punches and chisels - particular attention here should be paid to the detailed finish of the hair of the bust of Pope and the clothing and armour in the Rysbrack busts.


For a very useful look at English Bronze Sculpture see Sculpture Journal Vol XIV (2005) pp. 30 - 40,
Brass sculpture and the ideology of bronze in Britain 1660 - 1851, by M.G.Sullivan and in the same Journal, pp 93 - 150 : Compendium of British Bronzes 1660 - 1851 from the Dictionary of Sculptors in Britain ..... ed Ingrid Roscoe the list compiled by MG Sullivan and Emma Hardy.
____________________________________



Alexander Pope
Bronze
Height 46.5 cms
attributed to Louis Francois Roubiliac
Photographs courtesy Sotheby's, Bond Street, London.

see - http://www.sothebys.com/en/auctions/ecatalogue/2007/european-sculpture-works-of-art-l07231/lot.136.html


For the 1740 Marble version of this bust see -

http://bathartandarchitecture.blogspot.co.uk/2014/01/4-themilton-fitzwilliam-bust-of.html
_____________________________
The Bronze Bust of Isaac Newton
Michael Rysbrack.
at the Fitzwilliam Museum Cambridge
NB. the crispness of the casting and detailing of the eyes, the shirt, the buttons, the stitching on both the shirt and waist coat.
This sort of fine detailing is missing entirely from the bronze and lead busts of Locke (above).
Photographed at the Fitzwilliam Museum, Cambridge by the author.
Assumed to be lot 74 in the Rysbrack sale catalogue 20 April 1765.
I have previously posted photographs of this bust, very kindly provided to me by Victoria Avery of the Fitzwilliam Museum.

This bust - has been on loan to the Fitzwilliam Museum, Cambridge from Trinity College, Cambridge since 2004.
Formerly in the collection of O.V. Watney of Cornbury Park,sold at Christies on 22 May 1967, Lot & together with a bronze bust of Oliver Cromwell (lot 6), bought by Humphrey Whitbread (1912 - 2000) - the bust of Cromwell formerly on loan to the Cecil Higgins Museum, Bedford. See my previous post - on my parallel blog.


https://english18thcenturyportraitsculpture.blogspot.co.uk/2017/11/fitzwilliam-museum-rysbrack-bronze-bust.html
I will post on the Rysbrack busts of Oliver Cromwell in the future, but here are a couple of photographs of the bronze bust to whet the appetite -
Oliver Cromwell
Michael Rysbrack
Bronze bust
Life size.
Sold at the Rysbrack Sale of 20 April 1765.
The pair to the bust of Isaac Newton (above).
Photographs by the author.
I am very grateful to the owner who wishes to remain anonymous, for the opportunity to photograph and publish this bust here.
The terracotta is in the National Maritime Museum, Greenwich and a marble version at the Huntington Library, California.
_________________________________
There are several other 18th century bronze busts and statues with which the work on the bronze bust of Locke should be compared -
Scheemakers statue of Edward VI at St Thomas's Hospital, Lambeth Palace Road, London. put up in 1737, at the expense of Charles Joye, Treasurer of the Hospital, who had bequeathed the money for its erection in his will. There are currently no reasonable quality images of this statue available on line - I will attempt to rectify this shortly.
see - http://bathartandarchitecture.blogspot.co.uk/2015/09/teracotta-bust-of-edward-vi-from-queen.html
The bronze of Thomas Guy by Peter Scheemakers of 1741 at Guys Hospital. Lambeth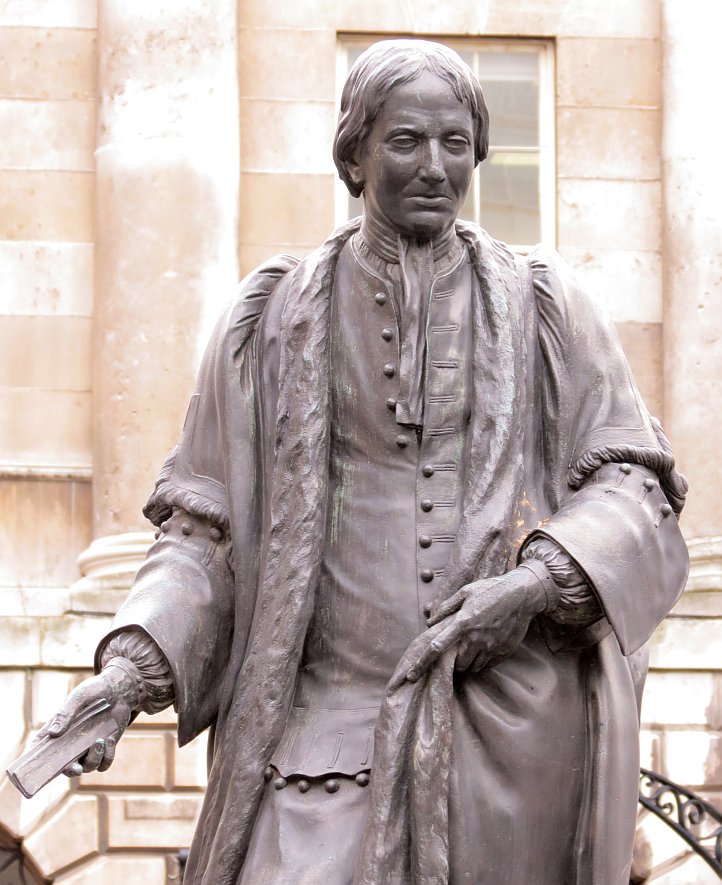 Image above from the website of Bob Speel.
http://www.speel.me.uk/sculptlondon/boroughhighst.htm





_______________________________
A short and not exhaustive list of later 17th to mid 18th century English larger scale bronze statuary.
As one can see, a very limited number of these objects were manufactured.
1678/9 - Grinling Gibbons Charles II Royal Hospital Chelsea.
1686 - Grinling Gibbons - Standing Figure James II formerly in Whitehall now in Trafalgar Square.
made by Laurens Vandermeulen and Mr A. Dievot.
Grinling Gibbons - Bronze Equestrian statue of William III, College Green, Dublin - Destroyed
1678/9 - Grinling Gibbons - Windsor Castle Bronze Equestrian Statue of Charles II cast by Josias Ibach of Stone Bridge, Hyde Park Corner.
1717 - 22 - The John van Nost II bronze Equestrian Statue of George I, now at the Barber Institute, Birmingham, formerly on the Essex Bridge in Dublin. Barber Institute Birmingham. - subsequently reproduced several times in lead.
1719 - Bronze King Henry VI by Francis Bird in Eton College, School Yard.
1733 - 35 - Michael Rysbrack's magnificent bronze equestrian statue of William III at Bristol. This statue was made to be seen from a distance so one would not expect the quality to be as good as a sculpture made to be seen at close quarters.
1737 - Edward VI by Scheemakers - St Thomas' Hospital
1741 Statue of Thomas Guy by Peter Scheemakers - Guys Hospital
c. 1745, Bronze busts of Lord Chesterfield by Louis Francois Roubiliac. Dublin Castle, Louvre, Victoria and Albert Museum
Roubiliac also produced small scale bronze reliefs of Handel, Garrick, Conyers Middleton and Pope.
1753 John van Nost III - Bronze Equestrian Statue of George II cast in Dublin put up on St Stephen's Green, Dublin - destroyed. (also tendered for by Roubiliac).
Undated - The Rysbrack busts of Newton and Cromwell sold in the studio sale of 20 April 1765.
Greg Sullivan mentions of 26 people describing themselves as founders between 1660 - 1700 and 122 between 1700 - 1750 but this of course represents the whole trade of which the casting of statuary was a minuscule part.
Sullivan also mentions a Richard Paulson, Brass Founder of St Martin's in the Fields whose will was proven in 1746 Prob 11/751
see - https://english18thcenturyportraitsculpture.blogspot.co.uk/2016/07/equestrian-statue-of-george-i-by-van.html
___________________________________________