Bust of Robert Freind (1667 - 1751).
Christ Church College, Oxford.
Some notes.
Once again grateful thanks to Dana Josephson
George Vertue notes a bust of John Friend pre 1732 (Vertue III).
Robert Freind, was the eldest son of the Rev. William Freind (also Friend), rector of Croughton, Northamptonshire, was born there, and at an early age was sent to Westminster School, where he was admitted on the foundation in 1680. He obtained his election to Christ Church, Oxford, in 1686, and graduated B.A. 1690, M.A. 1693, and B.D. and D.D. 1709.
Freind served the office of proctor in 1698, and in the following year was appointed under-master of Westminster School in the place of Michael Maittaire. In 1711 he succeeded Thomas Knipe as the head-master, and in the same year was presented to the rectory of Witney in Oxfordshire.
Freind was appointed a canon of Windsor by letters patent dated 29 April 1729, and was installed a prebendary of Westminster Abbey on 8 May 1731. On his retirement from the head-mastership in 1733 he was succeeded by John Nicoll, who had served nearly twenty years as the under-master of the school. On 26 March 1739 Freind resigned the living of Witney, which, through the influence of the Queen and Lady Sundon, he had succeeded in making over to his son. In March 1737 he was appointed canon of Christ Church, but he resigned his stall at Westminster in favour of his son in 1744.
Freind died on 7 August 1751, aged 84, and was buried in the chancel of Witney Church. A portrait of Freind was also preserved along with the portraits of the other headmasters at Westminster School.
Freind was a successful schoolmaster; his circle included Francis Atterbury. Matthew Prior and Jonathan Swift. With Atterbury and other old Westminster boys he helped in the production of Charles Boyle's attack on Richard Bentley. Freind's niece, however, married a son of Bentley.
Information here mostly culled from Dictionary of National Biography
Robert Freind (1667 - 1751).
Michael Dahl (c. 1656 - 1743).
Oil on Canvas
74.9 x 62.2 cms
Christ Church College, Oxford
Image from Art UK
https://artuk.org/discover/artworks/robert-freind-16671751-229092
Robert Freind
Christ Church College.
Aquired by the cllege between 1766 and 1770 when it hung in the Hall


Image from - https://uart.com/artwork/michael-dahl-robert-freind
_______________________________________
John Freind bother of Robert Freind
Physician to George II and Queen Caroline
John Freind died three months after he had led the opposition to Dr Fullerton's degree and his will revealed his continuing interest in Oxford. He directed that if his son should die without any children, £1,000 should be applied to the building of an anatomy school at Christ Church and to the salary of the reader, and if his brother's two sons should leave no children, his whole estate should be expended towards the building of a hospital in Oxford. Dr Freind's son died unmarried in 1750 and the bequest, augmented by some £10,000 by Dr Matthew Lee, went to Christ Church; however the reversionary proposals were not implemented. Nonetheless, after Bellers' general proposal in 1714, this is the first serious suggestion for an Oxford hospital.
Monument to John Friend brother of Robert Friend 1730 - 31.
Michael Rysbrack.
Note the snakes on the volutes either side of the bust.
The usual poor quality photograph from the Westminster Abbey website.
The Abbey authorities refuse permission for any photography within the Abbey.
I could purchase an expensive higher resolution photograph from them but I have no intention of doing so.
The inscription was written by his brother Robert, who was Head Master of Westminster School and a clergyman at the Abbey.
The architect was James Gibbs and the sculptor Michael Rysbrack and the monument was put up by the doctor's son.
The Latin inscription can be translated:
John Freind, M.D.
Chief physician to her serene Majesty Queen Caroline: by her clear judgment once approved, he flourished with as much grace among the Royal Family, as he had before enjoyed medical fame with the world. His character was benevolent and most liberal: attached to social intercourse and most tenacious of friendship, however its duties might in any way involve him in danger; no man conveyed with greater alacrity a benefit to others, or more freely remembered one conferred upon himself. While yet a youth he began to attract celebrity by his writings, and, polishing his style by a sedulous familiarity with the Latin as well as his native tongue, he brought forward, as a senator, in bright maturity, the elocution he had long cultivated in private. At home he signally devoted his studies to polite letters, but applied his principal strength with honourable propriety, to become the most skilful in his art - with what success, the public and nobility of Great Britain, with what varied knowledge, the learned of all nations, with what indefatigable applications and industry, his friends in tears commemorate. It was surprising that, amidst such a circle of continual occupation, he found leisure for writing, but that he was no longer able to bear so great a weight is by no means strange. He died, flourishing in age, while spending his fifty second year, July 26 1728".
On the base:
"Member of Westminster School and Christ Church, Oxford, and the College of Physicians; Fellow of the Royal Society"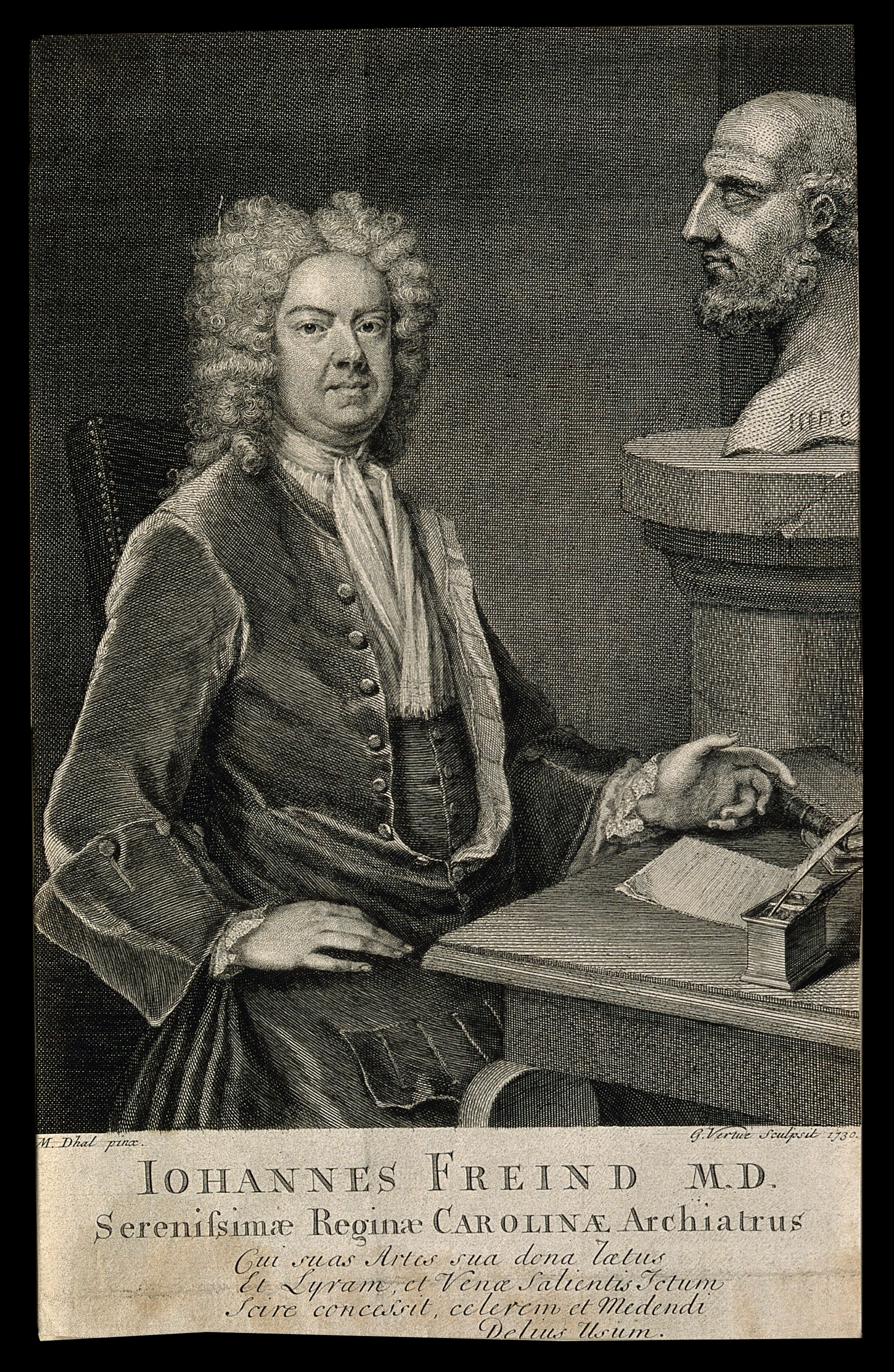 John Freind
George Vertue
Engraving after Michael Dahl
Image courtesy Wellcome Library