Bust of William Shakespeare
From the Original in Holy Trinity Church, Stratford upon Avon.
Attributed to Gerard Johnson c.1620, by Sir William Dugdale
the Historian in his diary of 1653.
Lincolns Inn Fields. London
Cast by George Bullock (1788 - 1818).
No size given. Traditionally believed to have come originally from a death mask
I have written at some length on the various busts of Shakespeare by Scheemakers, Rysbrack and Roubiliac and their variations and derivation.
For the engraved portraits see -
see also the link below and many other posts.
I have lifted the text below from the Soane website -
George Bullock (1778 – 1818) began his career as a sculptor but later established an important furnishing and cabinetmaking business first in Liverpool then in London. For a short while, from April 1808 he was in partnership in Liverpool with Joseph Gandy who had previously worked for Soane and in whose office John Soane junior was at the time a trainee.
It was the antiquarian John Britton who prevailed upon Bullock to make a mould from the Shakespeare Monument at Stratford-upon-Avon in 1814. The exercise took longer than Bullock had anticipated but he wrote to Britton that he was pleased to give up the time from 'my London affairs' because he believed the bust to be an extremely accurate likeness of the Bard, having perceived 'evident signs of its being taken from a cast', by which he presumably meant a life or death mask. Like many of his contemporaries Bullock and Britton had a great interest in Shakespeare's physiognomy and Bullock even invited Dr. J. C. Spurzheim, one of the founders of the theory of phrenology, to view the bust over breakfast shortly after his return from Stratford.
In 1816 Britton published a pamphlet, a copy of which is in Soane's library entitled Remarks on the Monumental Bust of Shakespeare at Stratford-upon-Avon, defending the likeness.

Soane owned two other busts of Shakespeare (L62 and SC68) and some twenty paintings and drawings of Shakespearian subjects. In addition he acquired the first four folios of Shakespeare's works published in 1623, 1632, 1664 and 1685. This bust was placed by Soane in the Shakespeare Recess, a niche off the staircase intended as a shrine to the Bard, whom Soane evidently revered. It was cleaned in 1990 and repainted in its original pale stone colour. This painted surface was then re-done in 2011-12 by Taylor Pearce Restoration when a major restoration of the Shakespeare Recess was carried out.
______________________________
For a concise overview of the monument in Holy Trinity Church, Stratford upon Avon
This version of the Bullock Shakespeare Bust at the Shakespeare Birthplace Trust,
Stratford upon Avon
___________________________________________
Another version of the Bullock bust but with a more traditional Socle.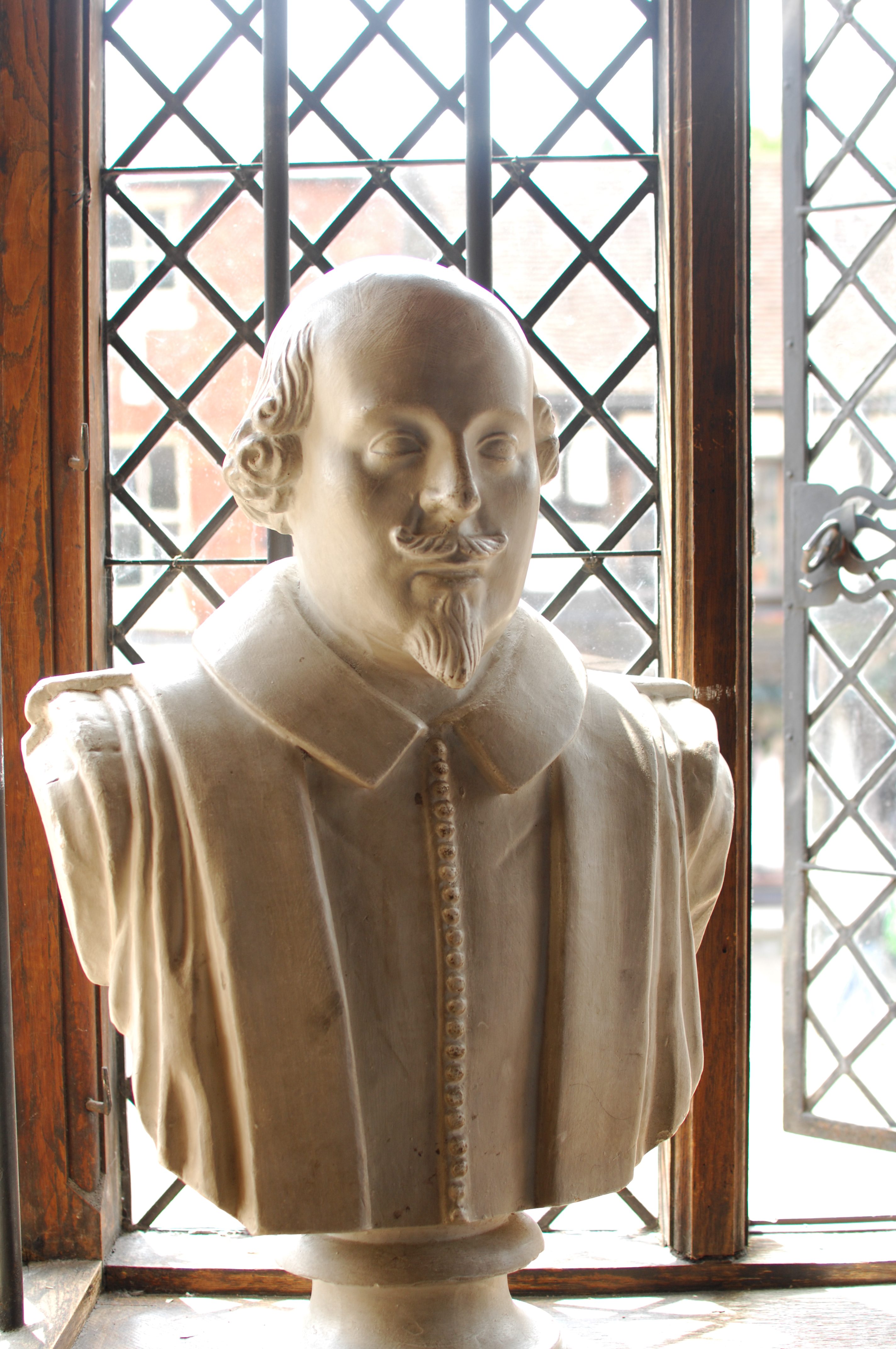 There is a photograph of this bust circa 1890 in the house in Henley Street, Stratford upon Avon
Shakespeare Birthplace Trust.
Photo. - Shakespeare Birthplace Trust.
Photo - Shakespeare Birthplace Trust.
____________________________
William Dugdale's Sketch of the Shakespeare Monument.
Engraving by Wenceslas Hollar in Dugdale's Antiquities of Warwickshire 1656
National Portrait Gallery.
__________________________________
National Portrait Gallery.
________________________________________
Circa 1748 when the Monument was "restored" This was organised by Parson Joseph Greene
John Hall was a Bristol man hired to Writing soon after the restoration,
Greene wrote that "the figure of the Bard" was removed to be "cleansed of dust &c". He noted that the figure and cushion were carved from a single piece of limestone. He added that "care was taken, as nearly as could be, not to add to or diminish what the work consisted of, and appear'd to have been when first erected: And really, except changing the substance of the Architraves from alabaster to Marble; nothing has been chang'd, nothing alter'd, except supplying with original material, (sav'd for that purpose,) whatsoever was by accident broken off; reviving the Old Colouring, and renewing the Gilding that was lost".
John Hall, the limner from Bristol hired to do the restoration, painted a picture of the monument on pasteboard Greene also had a plaster cast of the head made before the restoration began.
see - Price, Diana. "Reconsidering Shakespeare's Monument". Review of English Studies 48 (May 1997), 175.
Earl of Warwick's Collection.
Currently on loan to the Shakespeare Birthplace Trust
__________________________
National Portrait Gallery
National Portrait Gallery.