Lord Chesterfield (1694 - 1773).
The Portrait in Dublin Castle
by Stephen Slaughter (1697 - 1765).
Lord Lieutenant of Ireland from July 1745 - he left Ireland on 23 April 1746.
He was replaced by his half brother William Stanhope Earl of Harrington. Chesterfield was hugely popular during his very short stay unlike Harrington whose departure from Dublin was greeted with much celebration by the locals.
He was president of the (Royal) Dublin Society and was instrumental in acquiring a civil list payment for it in 1750.
He was instrumental in opening up Phoenix Park originally parkland designated for the use of the Viceroy and for erecting the statue of a phoenix on top of a column in the park.
Portrait of Lord Chesterfield whilst Lord Lieutenant of Ireland
in the State Apartments in Dublin Castle.
Photograph Courtesy Dublin Castle.
Once again I am very grateful to William Derham, Curator at Dublin Castle for providing this photograph.
This portrait was very recently cleaned and conserved when the details were discovered.
_______________________________________
Stephen Slaughter (1697 - 1765).
Baptised at St Paul's, Covent Garden, 13 January 1697, attended Kneller's academy at Great Queen Street in 1712 (Vertue III, p.77 and VI, p.169). Edward Slaughter recorded at the St Martin's Lane Academy in 1720 (Vertue VI, p.170) is probably his younger brother (see Burial Register of St Mary Abbots, Kensington, for 24 November 1773, and Slaughter's will of 1764/PCC Rushworth 198). According to Vertue 'liv'd abroad, at Paris and Flanders near 17 years', returning to England in 1732/3.
His name first appears upon an etching, done in 1733, from a drawing by Parmegiano, then in the collection of Dr. Hickman to whom the print is dedicated, Stephn. Slaughter f. 1733. As a painter he is first heard of in 1734, when he was in Ireland and painted a portrait of Nathaniel Kane, Lord Mayor of Dublin. He remained in Ireland a few years, occasionally visiting England, as certain dated portraits, such as those of "the Hon. John Spencer," "Lady Georgina Spencer," "Sir Robert Walpole" and others show.
He became Keeper and Surveyor of the King's Pictures in 1744. Executed murals of Spenser's Faerie Queene for the Chinese Temple at Stowe 1745. Shared his Kensington home with his brother and sisters (including his widowed sister the artist Mrs Judith Lewis) and died there 15 May 1765.
Info Tate Gallery and Library of Ireland.
For a useful and amusing account of the Viceroyalty of both Chesterfield and Harrington see
The Viceroys of Ireland..... Charles O'Mahony pub 1912.
Chesterfield wrote 'The House of Lords is a hospital for incurables,
but the Commons can hardly be described.

Session after session
presents one unvaried waste of provincial imbecility.'
On the other hand in a spirit of even handedness he also wrote to a friend in London
'We have more clever men here in a nutshell,
than can be produced in the whole circle of London.'
_______________________________________________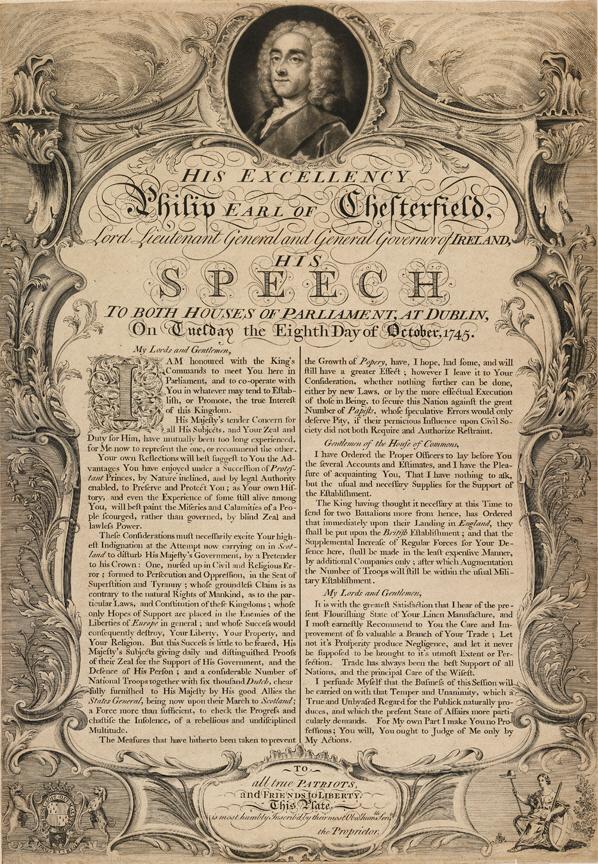 Engraving by Samuel Wheatley
Incorporating a portrait of Chesterfield after William Hoare
Plate mark 51.5 x 31.2 cms.
Image Courtesy National Gallery of Ireland.
Mezzotint
Andrew Miller (fl 1737 - 63) Dublin -Working in Dublin after 1743.
National Gallery of Ireland.