The Marble Bust of Isaac Newton.
in the Bodleian Library, Oxford.
Formerly attributed to Joseph Wilton (1722 - 1803).
Height 50 cms.
Acquired by the Bodleian Library in 1762.
see Bodleian Day Book.
This bust is a conundrum.


It bears no relation to other sculptures of Newton or to any painted or engraved portraits.


Does it represent Isaac Newton?
Although competent it is not good enough for Wilton - who was the sculptor?


There is a superficial resemblance to other busts of Newton particularly in the square shape of the jaw - but there is another bust of Newton which has been attributed to Wilton by Malcolm Baker - currently in a private collection? see photograph below which bears no resemblance to this bust.
Garlick says that it was believed to be based on a portrait by Enoch Seeman I can find no evidence for this

This post is one of an on going series depicting the portrait sculpture at Oxford University.
____________________________________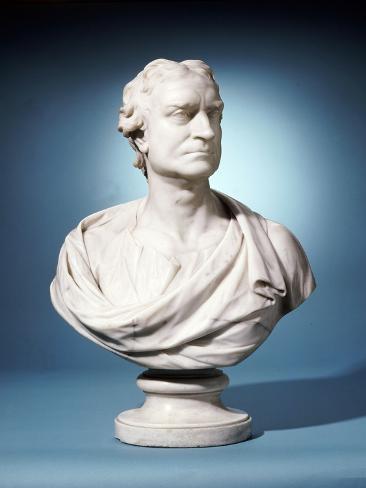 Bust of Isaac Newton.
anonymous.
attrib. to Joseph Wilton.
presumably the version sold by Christie's in 1991.
Current location unknown.



Joseph Wilton was born in London, but trained in the Netherlands, France and Italy from 1744 to 1755.
He was appointed Statuary to His Majesty George III in 1761, and in 1768 became a founder member of the Royal Academy. However in the same year he inherited a large legacy from his father and neglected sculpture thereafter; he was bankrupted in 1793.
Bibliography.
Mrs R. L. Poole, Catalogue of Portraits in the possession of the University, Colleges, City and County of Oxford, I, p 91, no.227.
Catalogue of Portraits in the Bodleian Library by Mrs R. L. Poole: completely revised and expanded by K. Garlick, 2004, p 235.
M. Keynes, The Iconography of Sir Isaac Newton to 1800, 2005, A.32, p 90). Keynes mistakenly writes that it is signed and dated.
Described in the Bodleian Day Book 1762 as 'said to be based on an original portrait by Enoch Seeman'.
An unidentified 'bust; a model' by Wilton was exhibited Society of Artists, London, 1768, no.159,
and another appeared in Wilton's sale, Christie's, 2 June 1779.
This was possibly that bust sold Christie's, 2 July 1991, lot 81, catalogued as Roubiliac, this was re attributed to Wilton by Malcolm Baker, see - M. Keynes, The Iconography of Sir Isaac Newton to 1800, 2005, A.33, p 90).
For a very interesting post on the composition bust of William Pitt, Lord Chatham by Wilton at Harvard University Museum see -
https://www.harvardartmuseums.org/article/a-layered-history

____________________________________


A couple of Busts by Joseph Wilton
Bust of Leake of Okeover by Joseph Wilton - private Collection
image from Conway Library
http://www.artandarchitecture.org.uk/images/conway/934cf486.html?ixsid=rexC4lzhKIt
Oliver Cromwell
Joseph Wilton
74.9 cms
1762.
Victoria and Albert Museum.
Sir Isaac Newton
after Enoch Seeman
engraved by James Macardel
__________________________________________