Billy Waters, King of the Beggars
Inscribed Pbld. Mar 1821 by R Shout & Son Holborn, London.
Plaster Statuette 13 inches tall.
Current whereabouts unknown
I was alerted to the existence of this quite remarkable plaster figure when visiting the exellent website of the estimable Mathew Crowther - a must visit site for anyone interested in Engravings and Graphic Satire of the 18th and early 19th centuries.
https://theprintshopwindow.com/2013/07/02/life-in-london-the-satirical-action-figures/
when putting together information on Benjamin and Robert Shout
_________________________
Staffordshire Pearlware figure of Billy Waters
attributed to Enoch Wood
Height 8"
Image Courtesey John Howard Antiques.
Another version of the figure above.
Height 8.25"
Royal Pavilion Art Gallery and Museum
From a scrap book of prints Compiled by Thomas Lord Busby.
Both images Victoria and Albert Museum
Portrait of Billy Waters
Sir David Wilkie
oil on panel
274 x 212 mm
National Maritime Museum
A full-length portrait, slightly to the left, showing Waters wearing a red waistcoat (with a pipe? in the left pocket), white shirt, yellow neckerchief and dark trousers, with a leather belt about his waist. His left hand is on a walking stick, which supports him; a false leg is strapped to the stump of his right leg. The background is painted gold. Billy Waters (c.1778–1823) was born in America during the War of Independence. He was a sailor and lost his right leg as a result of falling from the topsail yard of the 'Ganymede'. Unable to serve at sea, he became a famous London street entertainer and was often to be seen busking with his fiddle to support his family. Waters featured in Pierce Egan's 'Life in London' (1820–21) and was one of the characters illustrated by George Cruikshank. Indeed, Waters appeared in several Cruikshank cartoons, including 'The New Union Club' (NMM, ZBA2498). When Egan's book was adapted into a play and performed at the Adelphi Theatre, Waters – who had been busking outside – was invited on stage to play himself. He repeated the performance at the Caledonian Theatre in Edinburgh. Waters ended his days in St Giles's Workhouse, having fallen ill and been forced to pawn his fiddle. He was elected 'king of the beggars' shortly before his death.
________________________________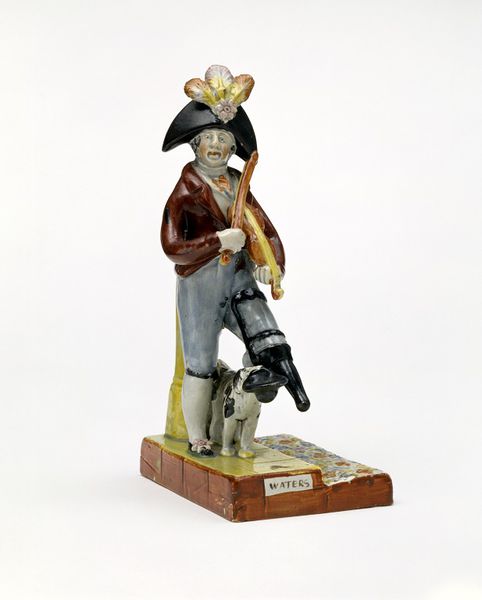 Lead Glazes Earthenware c 1825
Victoria and Albert Museum
http://collections.vam.ac.uk/item/O70193/billy-waters-figure-unknown/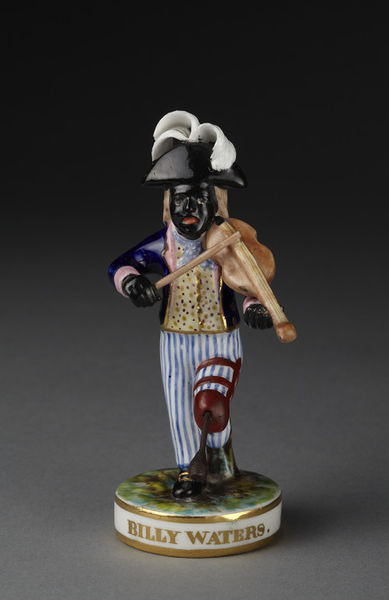 Derby Figure of about 1862.
A version of this figure was first produced in about 1823.
___________________________
From the will of Billy Waters
Thus poor Black Billy's made his Will,
His Property was small good lack,
For till the day death did him kill
His house he carried on his back.
The Adelphi now may say alas!
And to his memory raise a stone:
Their gold will be exchanged for brass,
Since poor Black Billy's dead and gone.